Effortless scanning and archiving of documents to SAP®
Stop worrying about expensive, time consuming or complex processes to integrate business-relevant documents to your ERP system: whether paper-based or digital, BECONEX Send2SAP automatically links and archives documents, directly from the scanning device to the business object of your choice!
Use barcodes and metadata to automate the archiving and versioning of business documents in SAP®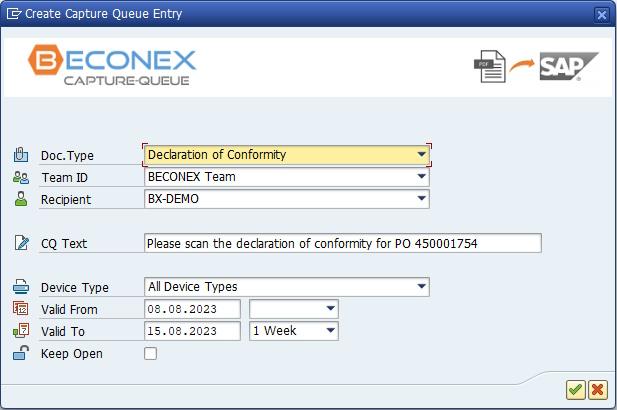 Assign scanning tasks to the teams or colleagues that have access to business documents in your organization
Customized solutions in SAP®
BECONEX is your strategic partner for document digitization and management in SAP® and other end-systems!
Scan to SAP® directly from your MFP or mobile device
The BECONEX Send2SAP solution allows you to simplify and automate the integration of documents into your ERP. Digitizing documents, storing them inside SAP® and linking them to business objects becomes a single, efficient, and user-friendly process.
Get rid of these steps…
Digitize and email the document from your multifunction or mobile device
Download the email attachment into your workstation
Search for the business object inside SAP®
Attach the document to the business object manually
… and turn them into a transparent, flexible, and user-friendly process: scan documents to SAP® directly from your MFP or mobile device!
Automatically link the scanned document to the business object in SAP®
Send2SAP is an ABAP-connector that creates a secure connection between your MFP or mobile devices and your ERP. This connection enables the bidirectional real-time communication between the device and the system.
Send2SAP can receive incoming documents from many different devices and users. The documents are then automatically linked to the business object and stored it in the predefined content repository. These steps are performed automatically by the connector using the SAP-ArchiveLink or SAP-DMS standards.
Together with the scanned document, additional information is sent and stored in SAP® for logging. This includes the ID of the user who scanned the document, date and time of scan, IP of the device, etc.
Scan documents to all SAP® modules
BECONEX's technology is generic software that is used to import data into any SAP® module or into an SAP® process.
With Send2SAP, any document can be transferred directly to the existing document management standards in SAP® – DMS, ArchiveLink, Folders-Management or PI for web services.
Send2SAP can be connected as standard to all SAP® modules with which the central business processes and transactions are controlled.
Integrate both paper-based and digital documents
BECONEX Send2SAP offers you a wide range of capture-modalities thanks to its SAP-ArchiveLink- and DMS-compliant technology.
Not only the scanning of paper-based documents as searchable PDF or TIFF is possible, but also the integration of digital documents and email attachments of almost any kind.
Microsoft 365 DOC, PPT, XLS, etc.
Acrobat Reader PDF
Image formats like JPG, TIFF, BMP, etc.
Audio and video formats
Design Suites like AutoCAD
and more!
Maximum flexibility to answer the needs of your organization
Send2SAP is a configurable solution – you can create scenarios to optimize the scanning and archiving of documents in virtually any department of your organization. A "scenario" is defined by:
which type of document you are digitizing (e.g., a contract)
what business object you want to attach the document to (e.g., a vendor)
the search and display method (e.g., a predefined list)
This way, you can minimize the need for manual inputs and simplify the archiving of documents inside SAP®.
Intuitive interfaces for fast and easy scanning to SAP®
Intuitive and user-friendly interfaces also contribute to boosting the efficiency of your processes by accelerating the input of information and minimizing the possibility of errors. With BECONEX Send2SAP, you can easily choose from the scenarios that are available to you, your team, or your division inside the organization.
Once you have selected the scenario, you can visualize and select a business object directly in the display of your MFP or mobile device. For some scenarios, you don't even need to select anything – the business object is recognized automatically by reading a barcode on the scanned document.
Optimized scanning and archiving to SAP®
Take the next step towards digitalization!
With BECONEX Send2SAP you can turn the integration and management of business documents into a transparent, efficient, and friendly process.
Get a solution tailored to your organization
Looking for support, consulting or personalized solutions?
BECONEX is your strategic partner for document digitization and management in SAP® and other end-systems!
Ready to take the next step?
Would you like to see the Send2SAP solution in action? We would be happy to arrange a meeting to show you what our products can do!
Check out the rest of our portfolio and discover how our solutions can simplify document integration on a variety of applications.
Subscribe to our newsletter